What is the best exercise for a new mum?
——————-
As a new mum, you may want to start with low-impact exercises that are easy on your joints and muscles, while also helping you regain your strength and energy.
Here are some exercises that can be great options:
🏃Walking: A simple and effective exercise, walking is an easy way to get started with physical activity after giving birth.
👇Pelvic tilts: This exercise can help strengthen your core muscles, which is important for supporting your back and improving posture.
🦵Squats: Squats are great for toning your legs, glutes, and hips, and can also help improve your balance.
🙏Lunges: Lunges work your legs and hips and help improve balance.
💪Arm and shoulder exercises: Light weightlifting or resistance band exercises can help tone your arms and shoulders.
It's important to consult with your doctor before starting any new exercise routine, especially if you had a complicated birth or have any health issues. A doctor or a physical therapist can help you determine the best exercises for your specific needs and ensure that you are performing them correctly to avoid any injury.
Find a Buggy Beat class near you or train to teach at buggybeat.com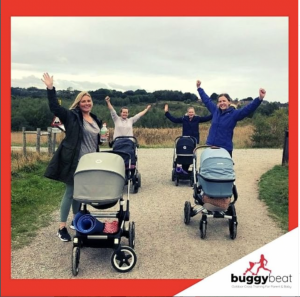 💥💥BUGGY BEAT INSTRUCTOR TRAINING SPECIAL OFFER ONLY £47!!💥💥
☑️Get the FULL Buggy Beat Training online and you can start right away!
☑️Help local mums get out and about in 2023 with your own Buggy Beat Class.
☑️Learn and launch with the support of our online learning hub, private instructor group and coaching from Rachel Holmes!
☑️Use the code: BB1 at checkout here:
https://www.choreographytogo.com/product/buggy-beat-instructor-training/