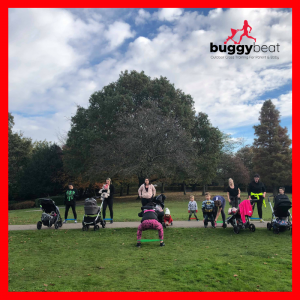 So you are thinking about joining a Buggy Beat class near you… but what do you bring with you?!
Read below to see what you need to bring along to our outdoor cross training classes for parent and baby:
• Warm clothes- this time of year can be frosty in the mornings so make sure you have a hat / gloves and warm clothes- and your little one too!
• A mat or something to put your hands on for core work.
• A suitable buggy- make sure your buggy is suitable for jogging/ speed walking.
• Water and snacks- bring plenty of water for you and your little one may even enjoy some snacks too.
• Suitable footwear- as we train outdoors it is best to wear some trainers with grip on.
Any more questions? Pop us a message!