Introducing Buggy Beat – A Fun and Energising Workout Class for You and Your Little One!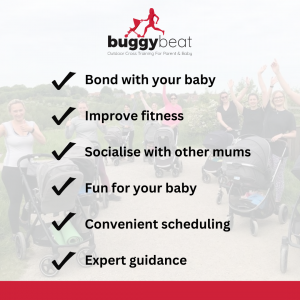 Are you a busy mum looking to stay active and bond with your baby at the same time? Look no further! Our class is designed specifically for mums like you who want to prioritise their health and well-being while creating special memories with their little bundle of joy.
Why choose  BUGGY BEAT?
Bond with your baby: This class is all about strengthening the bond between you and your little one. You'll get to spend quality time together, engaging in activities that promote interaction, laughter, and connection.
Postnatal fitness: We understand the challenges of getting back into shape and building strength after childbirth. Our certified instructors will guide you through safe and effective exercises that target areas like core strength, posture, and overall toning. It's the perfect opportunity to regain your strength and confidence.
Socialise with other mums: Joining our class means joining a supportive community of like-minded moms. Share your experiences, exchange parenting tips, and make new friends who are on the same journey as you. We believe in the power of a strong support system!
Fun for your baby: While you're breaking a sweat, your little one will have a blast too! Our classes are interactive and keep baby busy too/
Convenient scheduling: We understand that your schedule as a mum can be hectic. That's why we offer flexible class timings to accommodate your needs. Choose the time that works best for you and your baby, ensuring you never miss a chance to get moving together.
Expert guidance: Our instructors are experienced professionals who specialise in postnatal fitness. They'll provide modifications and support throughout the class, ensuring you feel comfortable and safe every step of the way.
Don't miss out on this incredible opportunity to bond with your baby, regain your fitness, and connect with other moms in a supportive environment. Sign up a BUGGY BEAT class today and embark on an exciting fitness journey with your little one! Use our "Find and Instructor page HERE