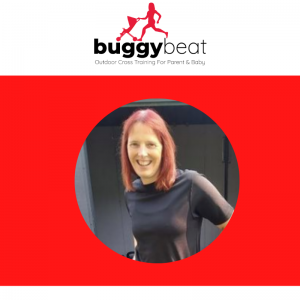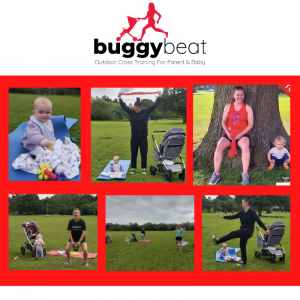 Hi, my name is Jo and I have been running Buggy Beat Bracknell for 3 years.  I have been a personal trainer and a fitness instructor since 2015 with my own small business called Willing Spirit Exercise and it was in March 2018 when I heard about a new fitness class Buggy Beat which was launching for all adults with a baby or toddler.  I loved the concept of fitness classes for all adults, not just mums where you could bring your child along so I quickly signed up to train as an instructor.  The training was great, and the support I received and continue to receive from Rachel and Lauren is amazing. I have now been running classes for 3 years after I qualified and launched my own Buggy Beat classes in May 2018.
What I love about Buggy Beat is it's not a franchise and I can choose where and how I run my classes and for me this means my classes have been able to evolve around the needs of my members.  Until Covid-19 and the first lockdown our sessions would move round the park and your baby would be in the Buggy most of the session but when I was able to restart the sessions in August 2020 I adapted to the need to maintain social distancing throughout a session by staying in one location in the park and working in a large circle which music and the members and children loved it.  A lot of the members had been missing their group fitness classes so by using timed music the sessions had that HIIT/ Circuits/ Legs Bums and Tums feeling to the sessions and if the little one was restless they could easily be taken from the Buggy and either held or laid on a mat in the group to watch.  As the children grew they could safely toddle within the circle or sit and play on the ground.  During Lockdown 2 and 3 I offered every member a 30 minute one to one session for the cost of their normal group session as I felt it was important to continue to support them both on a fitness level but also on an emotional/ mental health level. I have felt honoured to watch these babies grow and develop at a time when their own grandparents and family might not have been able to see them face to face.
Our Monday sessions at 10.30 am to 11.15 am are still held at North Lake, South Hill Park, Bracknell however my Thursday afternoon sessions which are from 1.30 pm to 2.15 pm now takes place in my private garden with full access to all my equipment in my small home studio, this means even more freedom for the members and children as the toddlers can wander in the enclosed space and the mums can concentrate on their exercises without fear of their little one walking off or picking anything less than delight off the ground.
Life is ever changing so I ensure that I try and support all my Buggy Beat members past, present and future and I hope that these sessions continue to bring adults and children alike friendship, fun and a love for fitness.
Jo x