We have so many Buggy Beat classes launching all over the UK this Spring, take a look and find a class near you:
Buggy Beat Wimborne with Katrina…
Tuesday 30 March 9.15am
Thursday 1st April, 1.30pm
Then twice weekly on these weekdays/ times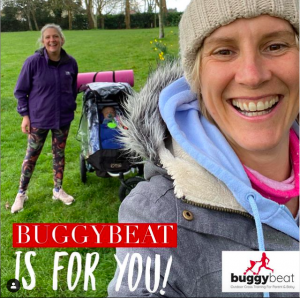 Wednesday 31st 1pm Ecclesfield, Eccleston St Helens
Tuesday 6th April 10am
Taylor Park, St Helens
Thursday 8th April 10am
Inglenook Farm, Rainford
Wednesday 14th April 1pm Ecclesfield, Eccleston St Helens
Thursday 15th April 10am
Inglenook Farm Rainford
Tuesday 20th April
10am Taylor Park, St Helens
Wednesday 21st April
1pm Ecclesfield, Eccleston St Helens
Thursday 22nd April
10.30am Inglenook Farm
Rainford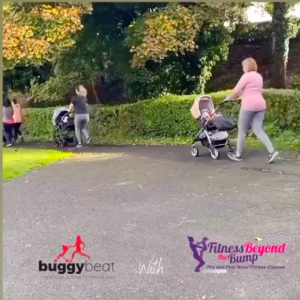 Buggy Beat with Sue Wakefield
I'm starting mine Monday 12 April 9-15 . Walkeringham village playing field. North Notts
Buggy Beat with Carrie
We are starting next week April 1st 9:30-10:15 in Thame
LAUNCHING IN THAME 1ST APRIL, Buggy Beat is the perfect socially distanced and safe class for you – outdoors!!
 A bit about me: I'm Carrie Messmore, mummy to two boys and Personal Trainer, Pilates Teacher, Barre Teacher and Pre and Postnatal Fitness Expert. I love fitness and helping other mums find that same love!
** You must have passed your 6 week check or 12 week C-section check to attend.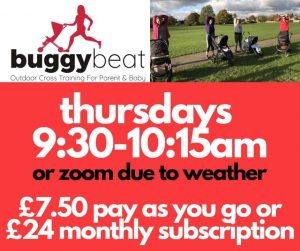 10am Wildwood Park, Stafford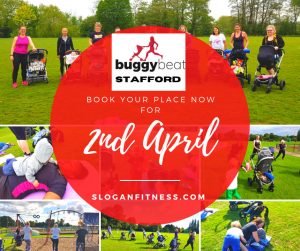 Monday 29th 1030am, Ryde Isle of Wight.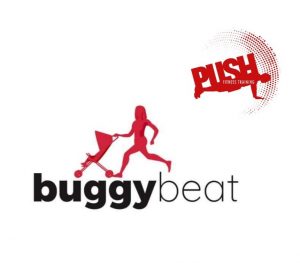 MONDAY 10.30 am – 11.15 am (except Bank Holidays)
THURSDAY 1.30 pm – 2.15 pm
NEW FRIDAY 9.15 am to 10 am, this session will be open to all adults with or without a Buggy.
I am also offering a small group training of 5 adults on Thursdays at 9.30 am to 10.15 am if anyone is interested (Buggy Beat Members / adults with babies/ toddlers in Buggies welcome)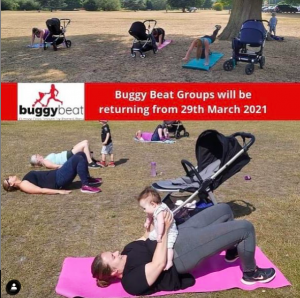 Buggy Beat with Mel Birmingham
Starts 19th April Warley Woods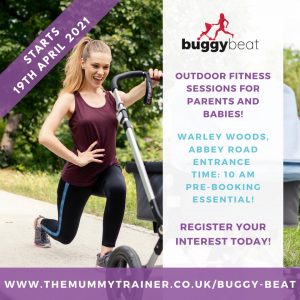 FREE taster Mon 12th April, 11.15am, Nicol Park, Portlethen.
Monday 12th April at 10am in Sandall Park Doncaster. South Yorkshire. Class will be every Monday at 10am.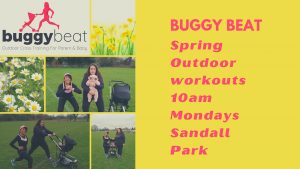 Buggy Beat with Amber
Tynemouth Park & Boating Lake, Tynemouth, Newcastle, Tyne & Wear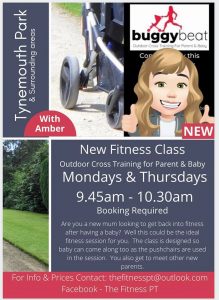 Buggy Beat with KK Health and Fitness Klub is back.
Buggy Beat is a fresh and modern outdoor session NOT just for postnatal mums, but ALL parents and guardians who look after babies and toddlers – mums/dads/grandparents/childminders/nannies/nursery staff can join in these fun sessions!
Outdoor cross training class where baby/toddler comes along with you in the pushchair. Sessions are taken outdoors in the local park and open spaces in Invergowrie and includes warm up, cardio training, strength and flexibility. It's the perfect way to exercise in a group having fun, with your little one close by.
We drive on with a new 6 week block
Every Wednesday 1.30pm
Every Friday 11am
Wrap up and train with your precious one. It really does make sense.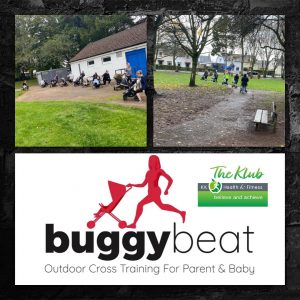 Buggy Beat, Lane End, Buckinghamshire
Outdoor Cross Training Class For Parent and Baby In a Pushchair.
Join ReikiMeg, a qualified Fitness trainer and mummy to 6 month old Issy, whom supports parents & guardians to find the motivation to keep fit and active with their little ones.
This Lane End, Buckinghamshire based outdoor class is high energy and packed with fun for both adult and baby.
BuggyBeat was created by the international fitness leader and proud mum Rachel Holmes.
BuggyBeat is the combination of Rachel's expert fitness and nutrition knowledge alongside her experience of being a mum to bring you a unique, parent friendly fitness programme.
Join Megann Saturdays @10.30am
Location:Lane End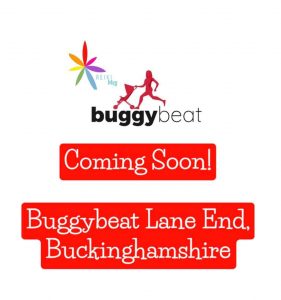 Buggy Beat near Swadlincote
Fit 4 Life Personal Training is very excited to announce a brand new Buggy Beat class will be launched in North West Leicestershire/South Derbyshire (Near Swadlincote). I am really passionate about providing an opportunity for new parents and carers in my community to meet new people who have young children and to make time to look after their physical and mental health!I am thrilled that North West Leicestershire District Council are providing 'community start up' funding to help me to bring this brand new class to my community. All funded places were booked very quickly so I have now added another class to offer more places.If interested please contact me for more information and to book your place.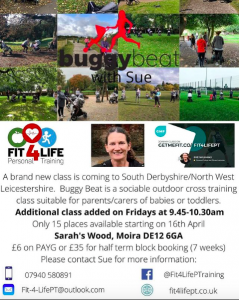 Buggy Beat Kilsyth with Erin Kyle
🌳Outdoor Fitness has returned🌳
☀️BuggyBeat is back & is a cross training workout suitable for all fitness levels 💪🏼
👶🏻 Bring your tot with you💪🏼 Exercises can be modified to suit your ability ✅😃Enjoy the fresh air & meet new people in your area 👯‍♀️☀️ Top up your daily dose of Vitamin D Sunshine ☀️💷 £5 PAYG 💷
✅Booking is essential due to current social & government guidelines
Please share & inform anyone who would be interested 👯‍♀️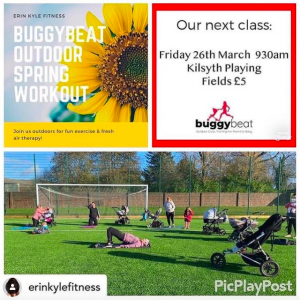 Buggy Beat Crick with Nicola Jayne
Would you like to meet some other mums in a safe and friendly environment with your little ones, whilst moving more and getting your fitness back on track?
Crick Buggybeat will be meeting every Thursday morning at the village hall car park, for some light exercise and a natter (maintaining social distancing and covid regulations)
Buggybeat is for you as you can do as much or as little as you wish !!
Contact me for more details either on our friendly Facebook page or directly on 07857448027.
Classes re-commence on the 1st April, all being well.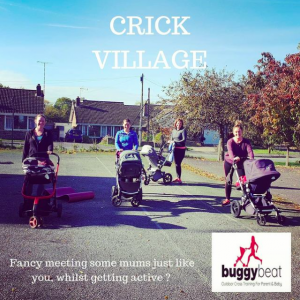 Buggy Beat Pure PT West Malling
I am putting on a POP UP socially distanced exercise class for those looking after babies & pre-schoolers:
✅ Parents
✅ Grandparents
✅ Nanny's/ Childminders/ GuardiansYour little ones stay in their buggy (where possible) and you get a 45 min cross training (cardio & body weight resistance) workout outdoors.✅ Suitable for ALL levels & from 12 weeks postpartum✅ Run by a Physiotherapist, Personal Trainer & Group Exercise Rehab Specialist who herself has 3 pre-schoolers!🤔 I'm considering running 2 x POP UP TASTER CLASSES on or around Monday 29th March & Friday 2nd April @ 10am & want to gauge interest.
🤔 Would you, your friends or relatives be interested?
🎉 Venue TBC – local to West Malling & surrounding areas – ideally somewhere we can get a coffee after if desired! 🎉
If so register your interest & join our FB group here: https://members.pureptandpilates.co.uk/buggy-beat/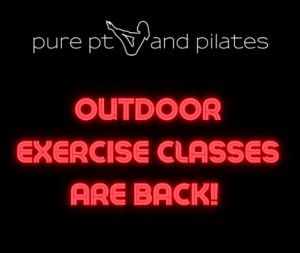 Buggy Beat Rotheram with Jodie's fitness
📣📣Calling all you lovely new mummies out their!! 👩‍🍼👶I'm launching a new fitness class just for you & your little ones!! Bring your babies & your buggies for an outdoor workout! Launching this April!! 😊🤞🏻🎉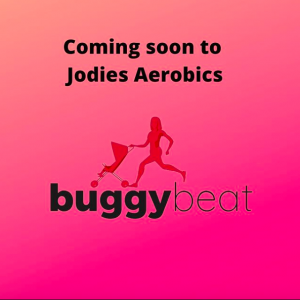 Buggy Beat Darlington with Melanie PT
buggybeat with Melanie PT will return outdoors in April! (In line with government guidelines) Outdoor Cross Training for parents/carers and babies/toddlers!👶🏼 I am excited to welcome you all to my sessions in time for Spring! ☀️ DM or email melanieptltd@outlook.com to register your interest 💪🏼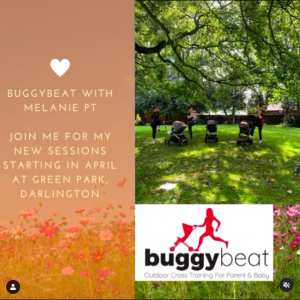 Buggy Beat Cheltenham with Holls Pt
Looking forward to getting back outside! Rain or shine these girls always smash it !! 👊
Mumma Fit and Buggy Beat Cheltenham will be back in person in less than a month 🙌
I will however also be keeping some live classes on Zoom! So if you fancy an early morning session to start the day then I've got you covered 🙌🍑
Loving the opportunity to trial and see what works best to help ladies fit fitness in !
Drop me a DM if your interested in trialing a class 🍑🙌 Wednesday 9.15 am Cheltenham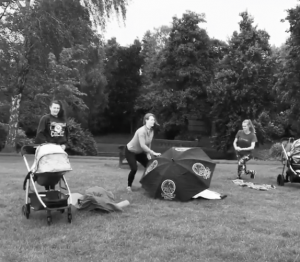 Buggy Beat with Claudine
🚨We are excited to be bringing @buggybeat1 to #braintree#essex 🚨
Buggy Beat is a fun parent and buggy class for all fitness levels ❤️💚
We focus on building fitness up slowly in a sociable and relaxed atmosphere. No equipment needed but a yoga mat is a great addition for floor work.
Exercising with your child in their buggy takes away the time consuming effort it takes to organise going to the gym. It's inclusive and a great way to meet new parents.
We plan to start running these classes in April and would love to hear from any mums and dads, parents or carers that would be interested 🙏🏻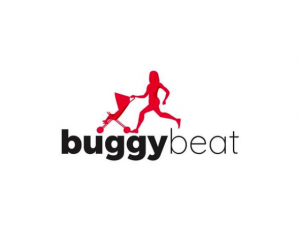 Healthy mum happy Bump Buggy Beat Water's Edge
So excited to get back to group sessions from Monday!!!
Do you like to exercise in the fresh air?
Whether you want to get fitter, stronger, or have some fun with other mummies and meet new people, it's a great way to entertain your baby/toddler/older kids while looking after your health!
Buggy or not, baby or toddler, just come and give it a go
Any question pop me a message!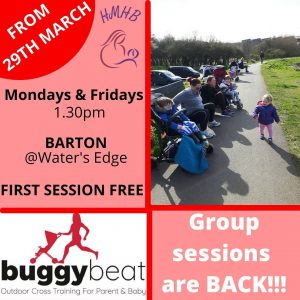 Starting in May
Brintons Park
Kidderminster
9.30-10.15am
Contact
hannahyardley.fitness@gmail.com
Monday 29th in Basingstoke 9.45-10.30am funkandtwistfitness@gmail.com