Today we are welcoming new Buggy Beat Instructor Sharon Bowles to the team!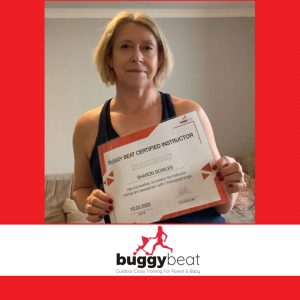 "My own fitness journey started 12 years ago when I started running . I was soon eager to make fitness a career and decided to retrain as a Personal Trainer and make the change from Accountancy .
It has taken me a while to take the initiative and in the last year I have moved forward with  my Personal  Training career which has included setting up local circuit classes. I am also very much involved in local running.
I am very much interested in getting women into fitness and my priority is to make them enjoy classes and feel comfortable.
I wanted to bring more classes to my area and to help other women on their fitness journey
Buggy Beat classes will be starting in Shepton Mallet soon ."
We can't wait to see your classes launch Sharon, welcome to the team!
---
Would you love to be a BUGGY BEAT Instructor?
Our training is all online and you can start today… find out more CLICK HERE