Today we have a wonderful story to share with you from Mum and Buggy Beat coach Sarah.
Sarah recently launched her Buggy Beat classes for parent and baby  in Aylsham, North Norfolk, after completing her training with us and wanted to share her journey so far in the hope to inspire other Mums: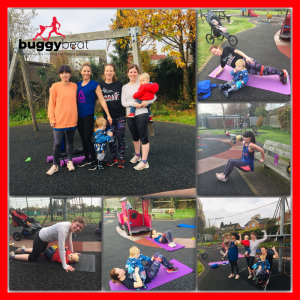 "I've always been an active person. I loved sports at school, went Thai Boxing from the age of 12 regularly attended gym classes but when I got married at 25 and emigrated to America for a few years, my activity levels shrank as rapidly as my waist line expanded! Fast-forward 7 years after the birth of my youngest child, I was suffering from Post Natal depression, mainly in the form of health anxieties. I'd lost both of my parents at a relatively young age and feared that I would not be here for my children to watch me grow old.
I hated how unfit I felt and how my body looked and decided enough was enough. By taking positive steps to look after my health/body I was doing everything in my power to improve my longevity. I dusted off my old trainers, threw on some joggers and hit the road. Those regular hits of endorphin after each run left me feeling great and I believe exercise was the key for me in combatting my PND. The only issue I had was that I felt guilty about the time spent away from my children whilst I went on to train for half and then full marathons. I had to squeeze in training around my husbands shift patterns and weekends, eating into our family time. I thought wouldn't it be wonderful to go to a fitness class you can take your children along to but there was nothing of the sort available within a 30 mile radius of where I lived!
When my youngest started school last year, it was naturally time for me to return to work, but what would I do?
I've been out of the workforce for 8 years, which unfortunately, is never favourable for mothers. Taking time out to raise your babies comes at a cost, you lose vital workplace skills and your confidence takes a nose-dive. However, during this time I had become deeply passionate about health & fitness and knew it was the direction I wanted to go in. I completed a L3 Fitness Instructor/Personal Trainer diploma in 2017 followed by a L3 Adapting Exercise for ante/post-natal clients. I wasn't quite sure on where to go from here. I'd looked at various buggy/baby exercise franchises available but didn't have the money nor the desire to sign up with any of them. One of my tutors had recommended Rachel Holmes and the instant I saw the Buggy Beat course on her website I felt like it was the answer I had been looking for! Perhaps not the best time of year to launch with the weather turning cold and wintery I've pushed on and now completed my first two taster sessions. The first one outdoors using a variety of equipment in the park as well as resistance bands and the second I had to bring indoors, but a circuit style format worked really well despite no use of buggies! Now it's time to really focus on promotion and marketing for the next few weeks and try and keep the buzz going in time for the New Year and all the 'loose weight/get fit' resolutions that accompany it!"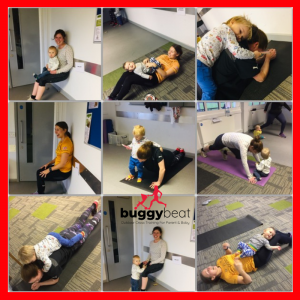 A big thank you for sharing your story Sarah!
If this has inspired you to launch your own business click here